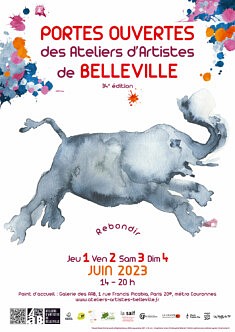 BELLEVILLE ARTISTS'
OPEN STUDIOS
34th edition "Rebondir"
(Boucing Back)
 Thursday 1

st
 Friday 2

nd
 Saturday 3rd 


 Sunday 4

th 
 June 2023 
 From 2 to 8 pm 
Every spring since 1990, the artists in Belleville have opened their studios to the public during four days.
Over the years, this has become a major artistic event : for these four exceptional days, everyone has the chance to meet artists and discover their work… an ideal opportunity also to discover the Belleville neighbourhood and its various facets. 
Amateurs of art, collectors, and those who are simply curious are all invited to visit the backstage of creation !
> 158 exhibitors (146 artists and 12 collectives)

> 106 studios to visit all around the Belleville neighbourhood

> All the branches of the visual arts represented (painting, photography, sculpture, installations, ceramics, prints…)

> Nuit Blanche in 46 studios and some courtyards on Saturday evening until midnight

> Events program (photo contest, music, participatory art, street art, special shows…)

> 15 440 visitors welcomed
Free admission
Online map of the studios here
Paper map available during the event (at public information and most studios), suggested 1€ donation
Public information during the event : Galerie des AAB, 1 rue Francis Picabia, 75020 Paris (M° Couronnes, ligne 2)
Short movie (in french) with artists Marcus McAllister, Caroline Bouyer and Catherine Olivier, made by Les Petits Fabricants
Many THanks to Our sponsors

A glimpse of 2023 Open Studios event
Communication elements
> Poster (Artwork : Claire Archenault, Éléphanteau, 2019, watercolor, 29,7 x 21cm / Graphic design : Jean-Christophe Adenis)
> Pdf map (A4, texts in french)
> Square image (Instagram)
Exhibitors
12 Collectives and artist associations : Artame Gallery (30 exposants), ASSOARTIF (38), Atelier 44 (4), Atelier da Mota (5), Atelier Mélingue (3), Ateliers d'Arts Plastiques APAJH 75 (15), Demain en main (8), Eva Pritsky – Galerie Javault (2), L'Argilerie (12), L'Officine (3), Photographes Parisiens (12), Quai Nord (10)
144 Artists : Jean-Christophe Adenis, Galina Andrews, Claire Archenault, Claire Arnal, Catherine Arnaud, Virginie Banas, Mariana Bankova, Charlotte Barrault, Anne Basaille, Ayse Basyazicioglu Gezen, Geneviève Baudoin, Hélène Bautista, Bernard Beaudonnet, José-Marie Bel, Hedi Belacel, Franck Bertran, Colette Billaud, Cathy Bion, Pierre Bonard, Angela Bonavita, Cécile Bourdais, Caroline Bouyer, Marie Busson, Alain Cabot, Sophie Charlotte Capdevielle, Anne Catoire, Jozyann Chabel, Julie Chetaille, Danielle Choukroun, Armelle Claude, Clim Clam Cloum, Claire Comte, Réjane Cousin, Claire Coutelle, Laurent Debraux, Pauline Deschamps, Paule Devillaine, Elli Drouilleau, Nicolas Dupeyron, Delphine Epron, Simon Faizant, Marie Fargeot, Judith Farro, Flopie-two, Fontaine de la Mare, Fleur Marie Fuentes, Olivier Furter, Suzel Galia, Laurence Garfield, Sylvie Gaudé, Audrey Gayraud, Nuno Godinho, Valérie Graff, Claire Guérin, Valentine Hébert, Sophie Herszkowicz, Dominique Humbert, Catherine Jeantet, Jocelyne Joyce B., Lika Kato, Ulrike Klett, Marie Danielle Koechlin, Diana Kraay, Bruno Krief, David Labrousse, Olivier Lacoste, Maria Alessandra Laneve, Stéphanie Lavaux, Frédéric Laviéville, Florence Le Van, Laetitia Lesaffre, Letrusko, Stéphanie Libreros, Edith Limongi, Marie Linder, Jean-Pierre Lourdeau, Tilda Lovi, Lumi, Ly-Rose, Madgut, Valérie Malet, Marie Mama, Isabelle Mangini, Marianne Marcuse, Anne Marrec, Dany Masternak, Mô Mathey, Adrien Mazzolini, Marcus McAllister, Kristin Meller, Charlotte Michel, Catherine Michel, Mlle Yo, Paul Mollon, Richard Morice, Sarah Mostow, Nicolette Moya, Thu Huong Nguyen-Dufourmantelle, Octeau, Stéphanie Olivar, Catherine Olivier, Thierry Page, Alexis Parmantier, Nicole Pavlowsky, Chi Phan, Clerc Pierre-Olivier, Dominique Pilet, Piyer, Ribeiro jr Plinio, Christelle Popée Guénot, Adriana Popovic, Irène Quesnay, Anne Ramaré, Catherine Rauscher, Marie Raybaud, Cédric Reolon, Michèle Rizet, Léa Robin, Eva Romain, Mirella Rosner, Rouaud, Bert Rückert, Emile Salimov, Mireille Saltron, Traute Schmaljohann, Annelies Danielle Schubert, Flavia Souza, Poulain Sylvie, Reine Taëvran, Jean Philippe Tarquiny, Brigitte Valin, Nicole Valsesia -Lair, Marie van Berchem, Raúl Velasco, Claude Vergé, Didier Vignon, Denis Viougeas, Hélène Vitali, Ismail Yildirim, Fanny Ynfab, David Zarcate, µµ (Mumu).