BELLEVILLE ARTISTS'

OPEN STUDIOS
32th edition, "Recreation"
FRIDAY 28th
SATURDAY 29th
SUNDAY 30TH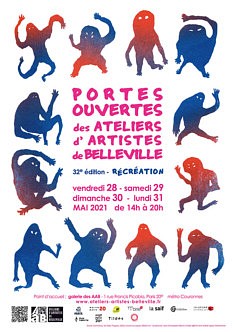 & MONDAY 31TH
may 2021
 From 2 to 8 pm 
Every year since 1990, the artists in Belleville are opening their studios to the public during four days. Over the years, this has become a major artistic event in the east of Paris, and today it is the largest of its type in France.
Amateurs of art, collectors, and those who are simply curious are all invited to visit the backstage of creation : for these four exceptional days, everyone has the chance to meet artists and discover their work… an ideal opportunity also to discover the Belleville neighbourhood and its various facets. 
> more than 200 exhibitors (artists and artists collectives)

> 115 studios to visit all around the Belleville neighbourhood

> All the branches of the visual arts represented (painting, photography, sculpture, installations, ceramics, prints…)

> Events program (photo contest, music, participatory art, street art, special shows…)

> 50 000 visitors are expected
Public information during the event : 
Galerie des AAB, 1 rue Francis Picabia, 75020 Paris (M° Couronnes, ligne 2)
Entry to all the events and studios is free.
a brief look back
open studios 2021, a Quick visit !
Event partners

press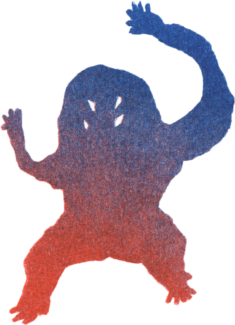 > (french) Press kit
> (french) Presentation and interviews (8 artists)
> (french) Press release
communication elements
Open studios, Paris lights Up
Paris Lights Up (site, Facebook, Instagram, Twitter, and on paper) is a free, bilingual (french & english) newspaper about eastern Paris.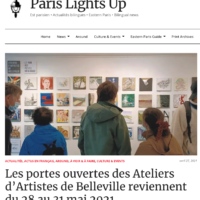 Article about the 2021 open studios (in english)
Five artists interviews (tildés média)
Tildés (sur Instagram, et sur Facebook) is a new média creating short vidéos about artists. Five open studios exibitors have been interviewed; videos are about their works, inspirations, careers… (in french) 
.     
.     
artists portraits from "mon petit 20e"
Mon Petit 20e (Site, Instagram, Facebook) is focusing on 20th arrondissement of Paris and its 200 000 inhabitants and culture. Here are three of their favourite artists of this year event (in french) :