BELLEVILLE ARTISTS' OPEN STUDIOS 
 26TH EDITION 
Friday, may 29
saturday, may 30
sunday, may 31
and monday, june 1st, 2015
2:00 pm – 8:00 pm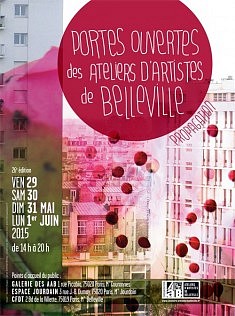 Every month of May, since 1990, the artists in Belleville are opening their studios to the public during 4 days.
Over the years, this has become a major artistic event in the east of Paris, and today the event is the largest of its type in France, with more than 250 exhibitors and 120 studios to visit.
"Propagation" is this year's event leitmotiv, and we are creating a entertainment program around the Open Studios : street-art route through the streets, guests from Italy, concerts, performances… An ode to strolling on the Courtille slopes !
Entry to all the events is free.
Meeting points during the event (maps, artists books and everything to plan your route) 

Galerie des AAB, 1 rue Picabia, 75020 Paris, (Tube line 2; Couronnes station)

Espace Jourdain, 3 rue Jean-Baptiste Dumay, 75020 Paris, (Tube line 11; Jourdain station)

CFDT, 2 Boulevard de la Villette, 75019 Paris, (Tube lines 2/11; Belleville station)

 

Informations : 00 33 1 77 12 63 13 / contact@ateliers-artistes-belleville.fr
EVENT SPONSORS

 Belleville shops are supporting us !
Lembellie design, 14 rue de la Villette,19e
Fromagerie Beaufils, 118 rue de Belleville, 20e
Le Comptoir – Objets créatifs faits main,  72 rue de la villette, 19e
Restaurant Valentin, 64 rue Rébéval, 19e
Panorama Gourmand, 2 rue des Envierges, 20e
Boucherie La Celloise, 105 rue de Belleville, 19e
Au 140, 140 rue de Belleville, 20e
O'Paris, 1 rue des Envierges, 20e
Cave Dargent, 27 Av Simon Bolivar, 19e
M'SO, 83 rue de la Mare, 20e
Première Pression Provence, 1 rue Lassus, 19e
Century 21, 36 Av Simón Bolívar, 19e
Tanaka, 13 bis rue Pradier,19e
Les Guetteurs de vent, 108,av Parmentier, 11e
Pharmacie du 82, 82 rue de Belleville, 20e
Pâtisserie de l'église, 10 rue du Jourdain, 20e
Banque Populaire Rives de Paris, 117 rue de Belleville, 19e
Montgolfière Bijoux, 97 rue de Belleville, 19e
Boucherie Bellevilloise, 143 rue de belleville,19e
Le Faitout, 23 Av Simon Bolivar,19e
KD, 1 rue pradier, 19e
Le Zephyr, 1 rue Jourdain, 20e
Le Mistral, 401 rue des Pyrénées, 20e
Paris Terroirs, 68 rue JP Timbaud, 11e
De Neuville, 128 rue de Belleville, 20e
FINE L'Epicerie, 30 rue de Belleville, 20e
Fromagerie Goncourt, 1 rue Abel Rabaud, 11e
Le Genre Urbain, 60 rue de Belleville, 20e
L'Atelier, 2 bis rue du Jourdain, 20e
Yves Rocher, 135 rue de Belleville, 19e
Kiwizine, 92 Rue Rebeval, 19e
Le Vieux Belleville, 12 Rue des Envierges, 20e
Demain c'est loin, 9 rue Julien Lacroix, 20e 
Café des cascades, 82 rue des Cascades, 20e
La Sardine, 32, rue Sainte-Marthe, 10e
Le Bariolé, 103 rue de Belleville, 19e
Muxu, 16 rue de Guerry, 11e
Karpières, 97 rue de Belleville, 19e
Ca décoiffe, 5 Rue C. Berthaut, 20e
Idéostore, 103 rue de Belleville, 19e
Pharmacie Bui-Nguyen, 249 rue de Belleville, 19e
l'Iliade, 59 rue de Belleville, 19e
Ariel Bertrand, 28 rue de Tourtille, 20e