BELLEVILLE ARTISTS' OPEN STUDIOS
28th edition
FRIDAY 19TH
SATURDAY 20TH
SUNDAY 21TH
MONDAY 22TH
MAY 2017
2PM – 8PM
Every month of May, since 1990, the artists in Belleville are opening their studios to the public during 4 days.
Over the years, this has become a major artistic event in the east of Paris, and today it is the largest of its type in France, with more than 200 exhibitors (Artists' portfolios), 120 studios to visit (Studios map), 50 000 visitors in 2016, and all the branches of the visual arts represented (painting, photography, sculpture, installations, ceramics, prints…).
Amateurs of art, collectors, and those who are simply curious are all invited to visit the back stage of creation: for these four exceptional days, everyone has the chance to meet artists and discover their work… an ideal opportunity also to discover the Belleville quarter and its various facets. 
Entry to all the events is free.
Meeting point (during the event) : 
AAB gallery, 1 rue Picabia, 75020 Paris (Tube line 2, Couronnes station)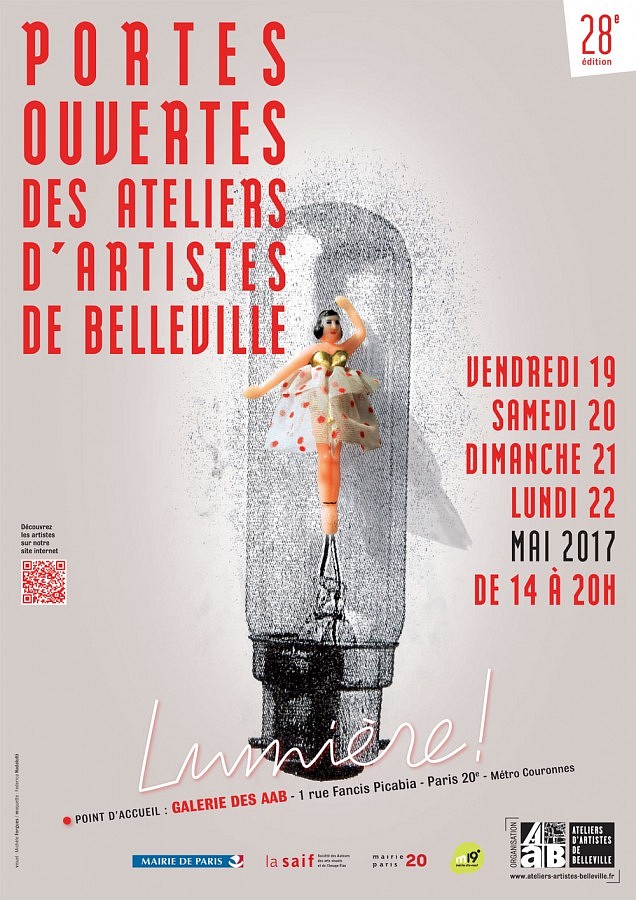 Informations : 00 33 1 73 74 27 67 / contact@ateliers-artistes-belleville.fr
"Light !" is this year's event leitmotiv, and we are creating a entertainment program around the Open Studios : street-art, guests, concerts, performances… An ode to strolling on the Courtille slopes !
Our Partners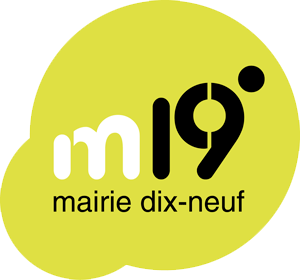 Belleville shops
Restaurant Valentin (Cuisine de Belleville), 64 rue Rébéval, 19e
Fromagerie Beaufils, 118 rue de Belleville, 20e
Pâtisserie de l'Eglise, 10 rue du Jourdain, 20e
Boucherie La Celloise, 105 rue de Belleville, 19e
Librairie les Guetteurs de Vent, 108 avenue Parmentier, 11e
Librairie Le Genre Urbain, 60 rue de Belleville, 20e
Librairie L'Atelier, 2 bis rue du Jourdain, 20e
Epicerie Castro, 114 rue de Belleville, 20e
Lez'arts (matériel pour artistes), 79/81 rue Julien Lacroix, 20e
Café Le Mistral, 401 rue des Pyrénées, 20e
Restaurant Le Zéphyr, 1 rue Jourdain, 20e
Paisano (traiteur Italien), 159 rue Saint Maur, 19e
Montgolfière Bijoux, 97 rue de Belleville, 19e
Thank you all !
Organisation partners
Trajectoires (http://www.trajectoires-memoires.com/)
Village Jourdain (https://www.facebook.com/groups/821589971297023/)