Tirages d'Hiver [Winter Prints]
Exhibition from 20 to 23 December 2018
Open from 2 to 8 pm
Opening on thursday 20 december from 6 pm
AAB Gallery, 1 rue Francis Picabia, 75020 Paris (M° Couronnes)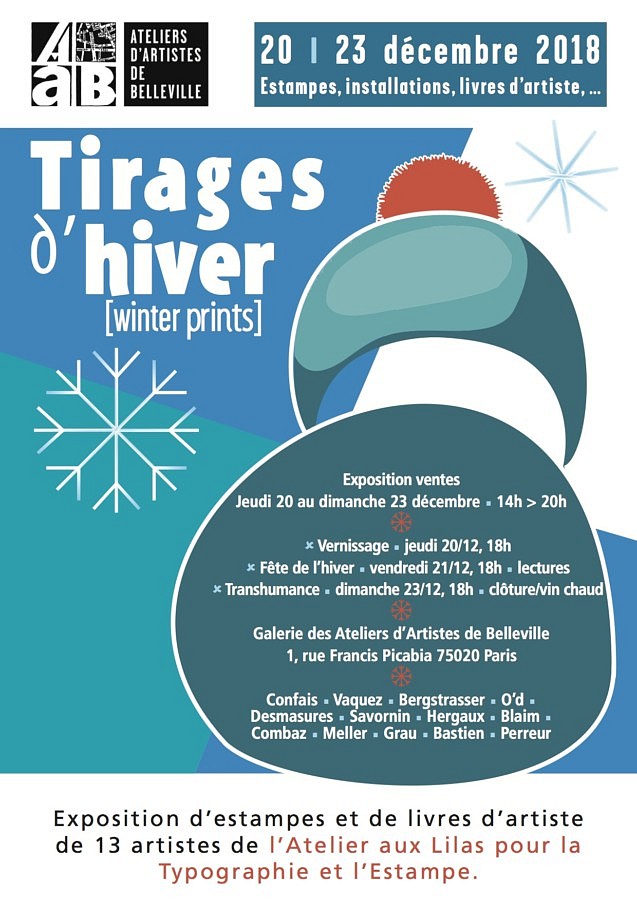 « Tirages d'Hiver » (Winter prints from the Lilas art workshop), is an art exhibition of prints and artist books produced in the Lilas' workshop, by 13 of its members.
The exhibition will take place from 20 to 23 December 2018, from 2 to 8 pm.
It will present numerous works of the artists, and include the following highlights :
Private View on Thursday 20 December from 6 pm
"The snowman": a big nude-painting covered of small prints will be unveiled as sales will occur
The Winter feast will be celebrated on Friday 21 December from 6 pm, with public lectures of texts and poems
The Transhumance party will close the exhibition on Sunday 24 September from 6 pm with a mulled wine
To improve the sensual experience of the visitor, the artists from the collective created a playlist on Deezer, available here: Tirages d'Hiver [Estampes variées de l'Atelier aux Lilas]
Artists : Gérard Bastien, Laurent Bergstrasser, Blaim, Cécile Combaz, Guillaume Confais, Véronique Desmasures, Xantal Grau, François Hergaux, Kristin Meller, Carine Perreur, Chrystel Savornin, O'd, Pierre Vaquez.
To know more, download the press kit of the exhibition or of the artists, click HERE