2015 PHOTO CONTEST 
THE EXHIBITION
Open friday 25th to monday 28th september 2015, from 2 to 8 pm.
Opening : friday 25th, from 6 pm
Galerie des AAB, 1 rue Francis Picabia, 75020 Paris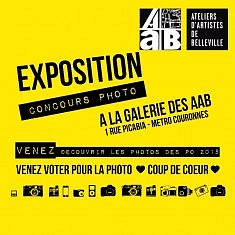 During our last open studios event in may 2015, we ran a photo contest and received a lot of images from enthusiastic participants.  
The exhibition will display the work of 25 photographers among the participants. Their pictures are alternately amazing, poetic or representative of the event.
The 'coup de coeur' prize will award one among the photographers.