Passe, Passera
Art exhibit, 25 artists, 9 locations
Exhibition and events from october 31st to november 11th 2019
Open from thursay to sunday : 2 pm – 8 pm and on monday 11th from 2 pm to 6 pm
Opening on november 2nd at 6 pm.
«Art is the only thing that resists death. »
Gilles Deleuze.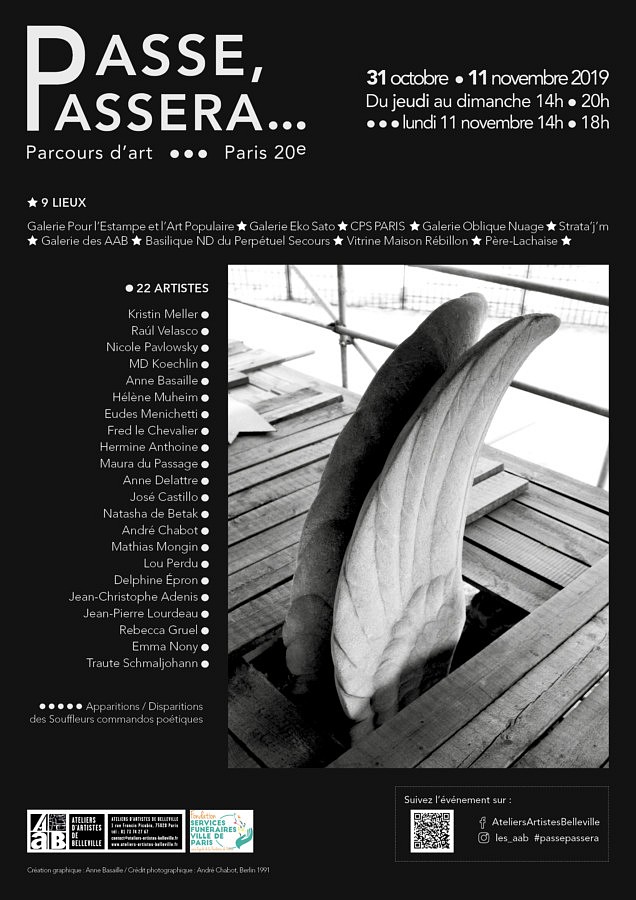 Time and death are considered as classical themes in art. They punctuate art history in its different disciplines. Passe, Passera aims to explore different artistical approaches of these concepts. Passe, Passera takes place in 9 different places (please check the map below).
 

 

With : Jean-Christophe Adenis, Anne Basaille, Natasha de Betak, José Castillo, André Chabot, Delphine Épron, Rebecca Gruel, Marie-Danielle Koechlin, Jean-Pierre Lourdeau, Kristen Meller, Emma Nony, Mathias Mongin, Nicole Pavlowsky, Lou Perdu, Traute Schamljohann, Raùl Velasco et le Collectif Promenons-nous (Hermine Anthoine, Maura du Passage, Anne Delattre).
Locations : 
Galerie des AAB, 1 rue Francis Picabia, 20e
Strata'j'm, 86 rue des Couronnes, 20e
Association pour l'estampe et l'art populaire, 49 bis rue des Cascades, 20e
CPS Paris, 3 rue Jean Baptiste Dumay, 20e
Galerie Oblique Nuage, 19 rue de la Mare, 20e
Crypte de la basilique Notre-Dame-du Perpétuel-Secours, 55 boulevard de Ménilmontant, 11e
Galerie Eko Sato, 57 rue des Cascades, 20e
Vitrine Rébillon, 27/29 boulevard de Ménilmontant, 20e
Père-Lachaise, chapelle de la Mémoire Nécropolitaine, 8 boulevard de Ménilmontant, 20e
With the support of :