Catherine Rauscher
Dessin, Gravure, Peinture
---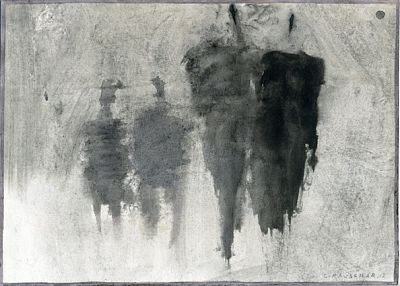 Sans titre, en famille. acrylique sur papier
Since 1983, Catherine Rauscher has been living and working in Belleville where she paints on grey cardboard.
On this humble surface, she usually paints people, whom she generally calls "Untitled" to signify those ordinary people who have no particular status, fame or fortune…When acrylic meets cardboard, these humble, fragile protagonists become practically part of this inimitable grey matter: the velvet of a pastel and the hardness of a stone.
But, between spine and core, there is an axis that keeps them standing up, irreducibly present and very much alive
A representation of people as they are. Seen both from outside and within.
Participates in Open Studios
---
(Numéro de plan à venir…)
Gallery
---